News
Shopping locally, a trend that looks set to stay
We at Stockland have observed a substantial consumer shift towards conscious support of local businesses, a rediscovery of the ready accessibility of nearby shopping opportunities and a reawakened inclination to buy local products. With a footprint of Retail Town Centres across Australia, from small to large, regional to metro, Stockland is perfectly positioned to track and participate in a shopping transition towards support for vibrant community hubs.
Online, Local or Both: the Rise of Omnichannel Retailing
Stockland's three C's – curation, convenience, and community – long the foundation of our retail proposition, have taken on increased significance as customers return to the physical shopping environment.

Among consumers, there has been an enthusiastic willingness to reconnect with the in-person shopping experience, tempered by requirement for COVIDSafe compliance and a growing demand to access safe and hygienic products and services.

While online shopping provides remote accessibility, in-store shopping provides experience. Increasingly, the role of the shopping centre as an experience provider will be to build an emotional contact with customers – providing them with sensational, value-added interaction that they cannot find by other means than in person.

These personal connections are more than likely occurring locally. Customers constrained by travel limitations have rediscovered local shopping. In some cases, they've even discovered it for the first time. They've liked what they've found, and they've committed to it going forward.

There's a renewed social consciousness in Australia. 'Mateship', a concept rooted in the Aussie psyche, has again come to the fore. Increasingly, there's a strong feeling of community. 'We're all in this together', is a feeling amongst local communities that has led customers to shopping locally and supporting their local businesses.

Consumer paradigm 'essentially' shifts
Informed choice is particularly noticeable in demand for essential non-discretionary products and produce. Customers want to know where their produce has come from and to source it quickly. Shorter supply chains further reinforce local shopping.
According to Roy Morgan Research, 80 percent of customers choose Australian-made 'local' food and drinks over imported products. It's more than just a sense of patriotism. The recent unreliability of shopping from international retailers, mainly online, has thrown up major supply issues and driven customers to find trustworthy local alternatives.

Health and wellbeing products and services are experiencing considerable uplift in line with people's changing values. Many are emerging from COVID-19 embracing a newly reset lifestyle, and their views on what is relevant to them have likely changed.

Perceived value remains shoppers' primary consideration, allied with a newly discovered demand for higher quality. We at Stockland have been repositioning our retail town centre portfolio with key priority being given to Essential retail categories and providing customers with compelling reasons to visit.

There has been a seismic shift in consumer resolve. Our latest ShopperSAT Shopper Satisfaction survey reveals consumer intention to seek-out local products and services rose from 66 percent in September last year, to 71 percent this year. In a mature market, that's a major change. Significantly, our survey shows the percentage of people likely to support brands and shops that give back to their local community has moved from 55 percent to 59 percent.

There is opportunity for retailers to capitalise on both: through the products they offer as well as the 'personality' of their business and emphasising the best of their local shopping experience.

Think Local, Act Local

The phrase 'Think global, act local' was coined 105 years ago. It was an early warning on the need to retain environmental equilibrium. It's as relevant today as it was then. But increasingly, there's a need, also, to break action down into community-sized chunks.

'Think local, act local' is the cornerstone of our contributions to our retail partners. It is recognition that each of Stockland's retail sites can be curated to meet local needs. "People shop locally for more than just products and services. They shop for a memorable experience," Tony Tsekouras, General Manager of Retail Leasing, Stockland says.

Stand-by for an increase in pop-up stores and activations, featuring local products sourced from and tailored to, each area. Expect innovative placemaking value-adds – music, arts, cooking, that drive traffic and meet expectations of community connection.

"Customers will return more frequently when they have a positive experience," says Mr Tsekouras. And they'll spend more as they're further entrenched with those experiences. There's a window of opportunity. Right now, customers are thinking and acting locally. As part of COVID-affected communities they are galvanising to support their local businesses and they're likely to stay if their expectations are met.

There's a sweet-spot made up of qualities such as personalised service, empathy, friendly and frictionless transacting, issue resolution on a person-to-person level, and, ultimately, trust born out of mutual respect.

"Stockland has made a very conscious decision to align our strategies to help our retail partners achieve that position of trust," Mr Tsekouras, says.

To 'Think Local and Act Local', we can now add 'Shop Local,' a trend that our Retail Town Centres are proudly delivering.
Related Articles
News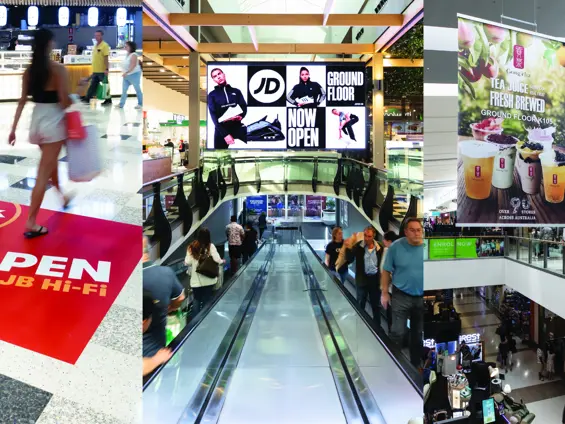 How advertising in a Stockland retail centre can boost sales
As customer buying patterns shift, Stockland National Manager of S Connect, Lisa King, shared the following insights, namely: why brands and businesses should, now more than ever, be leveraging the irreplicable power of Stockland retail town centres....