News
3 ways to create flexible workplaces for happier, healthier, more productive staff
Work has changed since the pandemic. Hybrid working has become the norm for businesses of all kinds. And the good news is that an unexpected benefit of the changes is that productivity actually seems to have been enhanced. Employees have adapted well, and often find it easier to achieve their tasks.
Savvy businesses have pivoted, adapting to provide workplaces and policies for their people designed to capitalise on these rapid changes.
Research into current trends suggests that flexibility is king. Few people enjoy working from home full time, most employees prefer some in-office hours as part of their mix. Particularly when varied start times can be managed, others are happy to come in full-time. One certainty is that all workers are now expecting more from their physical office spaces.
Clearly, there is no one-size fits all solution. Here are a few approaches we're seeing in the modern workplace.
1. Work-life balance – no longer a perk, it's essential for employee retention
It appears higher salaries are no longer the biggest drawcard for prospective employees.
The annual Randstad Australia and New Zealand Employer Brand Research report, Does your brand stand out in a talent-short market? 3, found that most workers looking for a new role prioritised work-life balance (62 percent), followed by attractive salaries and benefits (58 percent) and job security (56 percent).
The Forbes report, Addressing Burnout, Flexible Work And A People-First Work Culture*2 also found that 70 percent of 'C-suite' staff were gravitating towards jobs that better-responded to their mental health and wellbeing.
This employee value shift means employers are also being called to move the proverbial goal posts and restructure employee packages to include hybrid working options, a broader range of amenities (either on or off-site), and mental health support services.
2. Bespoke solutions help to avoid employee burn-out
Modern workplaces which implement strategies to prevent or mitigate burn-out are increasingly appealing to employees. Smart employers take this into account when choosing and designing workplaces.
Employers are facing new challenges caused by these shifting workplace expectations and norms. Tectonic shifts in workplace configurations, policies, and practices are increasingly obvious. The Future Forum Pulse report*3 puts it succinctly, saying: "The pandemic accelerated many workplace dynamics that were already underway, staff now want more choice and control over how, when, and where they work."
Future solutions will lean heavily into flexibility and customisation across organisational policies and the physical office environment; offering the option for hybrid or remote work, and flexibility around start and finish times depending on the employee's circumstances.
Additionally, activity-based working has in recent years become more prevalent – the approach acknowledges that people engage in various tasks throughout their work day and encourages them to make more conscious choices in how they execute their work.
This is a trend we are now seeing amongst our tenants, who are harnessing flexibility to create a mix of fixed and activity-based workspaces to provide a more appealing and diverse offering to employees.
It's also a trend we are adopting in our new fitouts at Stockland HQ in Sydney, where we're evolving our fitout to incorporate areas dedicated to focus work and open plan collaboration hubs for activities that require elevated physical interaction.
Anecdotally, activity-based working also allow more staff mingling and management by walking around (MBWA), both of which enhance wellbeing and productivity.
Management by Walking Around (MBWA)
One powerful way to connect with team members is to get up from your desk and go talk to them, to work with them, to ask questions, and to help when needed. This practice is called Management by Walking Around, or MBWA.
MBWA is a deliberate and genuine strategy for staying abreast of people's work, interests, and ideas. It requires a range of skills, including active listening, observation, recognition, and appraisal.
MBWA also brings participation, spontaneity, and informality to the idea of open-door management. It takes managers into their teams' workplaces to engage with the people and processes that keep companies running, to listen to ideas, to collect information, and to resolve problems.
Source: Mindtools.com
2. Use "Wellness Thinking" to design your workspace for maximum productivity.
Policies that cater to peoples' personal situations are obviously highly desirable to potential employees. But crucially, flexible office buildings and workspaces are also a significant drawcard. Specifically, workplaces that have built-in wellness offerings, plentiful amenities, and welcoming green and community spaces, can serve to bridge the gap between the pre-and post-pandemic work model.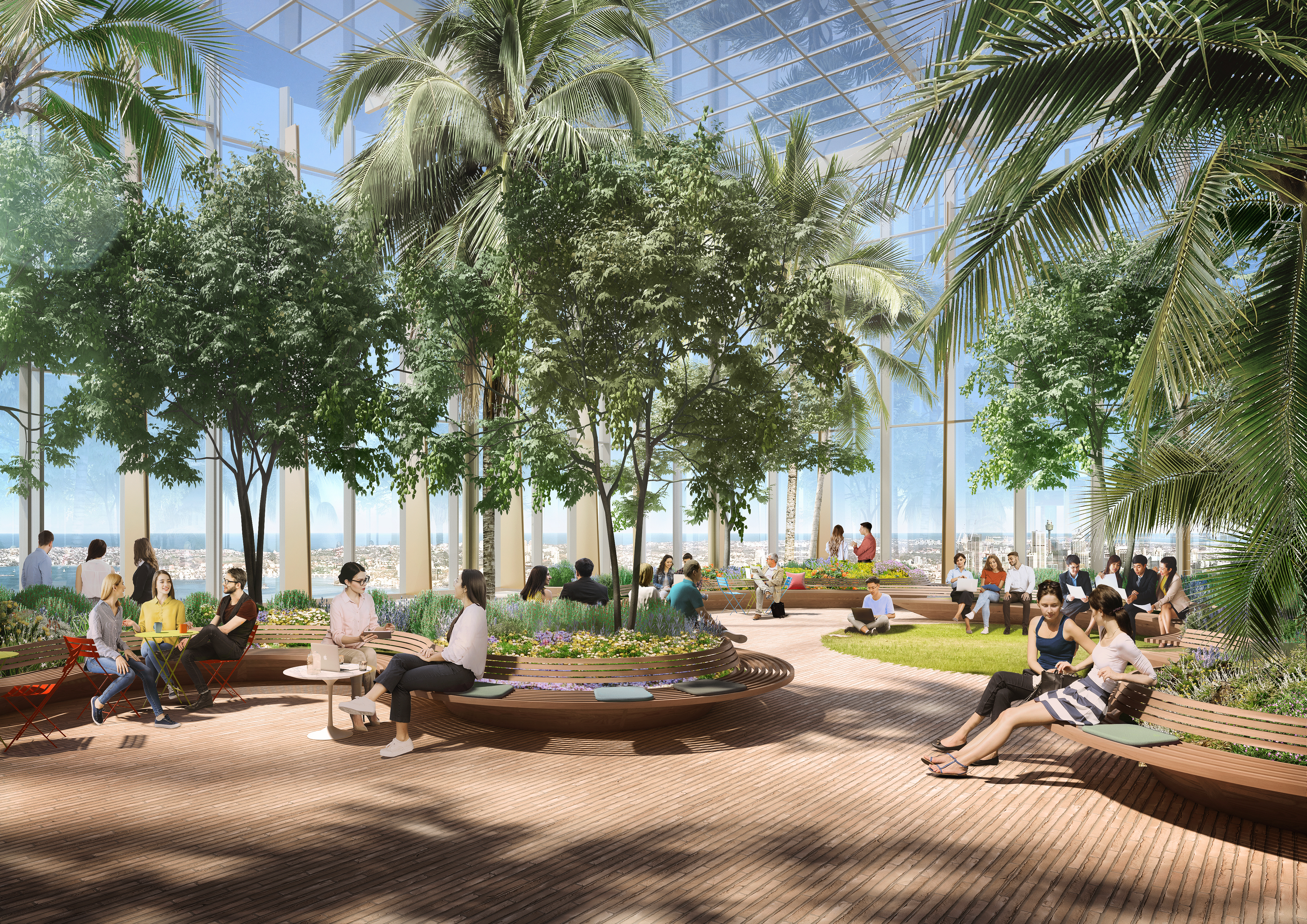 For example, when completed, Affinity Place will offer a premium office space in the heart of North Sydney.
Its clever design will breathe 'life' into work with key features like ample outdoor spaces to bring nature into the workplace, a plethora of diverse work environments, restaurants and bars, access to nearby places that complement both work and life, and helpful 'end of trip' facilities such as showers, lockers, and bike storage.
This is a unique place aligning people, business and community - providing the tools, space and inspiration to achieve. A place for people with purpose.
As Future Forum*3 concludes: "Future-of-work strategies can't be devised by looking to the past. The future of work is flexible, inclusive, and connected."
It's a big challenge, and an ever-evolving task. But businesses that respond to the challenge and continuously strive to improve work environments for their teams will be rewarded with better retention and healthy, happy, productive people — and inevitably, healthier bottom lines.
The evidence is in: it's time to act.
For over 70 years, Stockland has been creating thriving communities where people live, shop and work.
*1 Does your brand stand out in a talent-short market, News.com.au (quoting Annual Randstad Australia and New Zealand Employer Brand Research, 2022
*2 Addressing Burnout, Flexible Work And A People-First Work Culture In 2023, Forbes, 2023
*3 Executives feel the strain of leading in the 'new normal', Future Forum Pulse report, 2022